SLI Compliance® provides Voting System Testing and a full range of Election Support Services – from voting manufacturers to election jurisdictions – we're here to help you achieve your compliance goals.
Voting System Certification Testing
When it comes to Voting System Testing, SLI Compliance assures your test engagement receives the high-quality testing rigor required to meet today's federal and state standards.  Having been at the forefront of the voting system testing industry for more than 15 years, we provide an extensive knowledge of industry standards.
Election Support Services
SLI Compliance also understands that every election is important.  That's why you and your team take each election so seriously, you want to get it right.  So how can you be sure your voting machines, systems, software and processes are functioning properly and securely?
Fortunately, we're here to help.  Our extensive knowledge of voting system industry standards, election processes and software security practices ensure quality performance to build and maintain voter confidence.
Accuracy Testing
Logic and Accuracy Testing
Risk Limiting Audits
eLearning for Elections
One of the biggest challenges facing the election process is providing adequate training to the hundreds of thousands of personnel and volunteers who work elections throughout each state and county.  Every election governing body has requirements that are unique to their electors, environments, laws, and processes. However, one commonality is that they all need to prepare a diverse group of election workers to understand the process they must follow to ensure a fair election and be ready to fulfill their specific roles.
Successfully leveraging eLearning is key to providing complete and consistent training.  Our team here at SLI Compliance understands that education is not simply about providing new information or re-enforcing existing information, but should be a strategic, planned, and measured exercise to bring about change and achieve the desired learning outcomes.
Our team of eLearning specialists has specific experience developing election role-based eLearning and is here to help design education solutions that build employee confidence while providing a continuous improvement cycle to drive better business results.
Why SLI Compliance?
SLI Compliance has been an Independent Test Authority (ITA) since the National Association of State Election Directors (NASED) first established an ITA certification program in 2001.
SLI Compliance is accredited under the National Voluntary Laboratory Accreditation Program (NVLAP) of the National Institute of Standards and Technology (NIST) (NVLAP Lab Code 00733-0: TESTING).
SLI Compliance is accredited by the U.S. Election Assistance Commission (EAC) as a Voting System Test Laboratory (VSTL).
SLI VSTL staff maintain security and internationally recognized software testing certifications.
What's New?
Helpful Links
Services Brochures:
Voting System Certification Testing & Election Support
Voting System Security Testing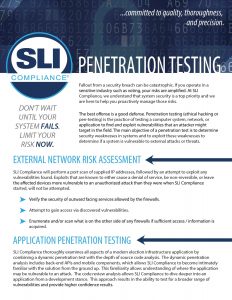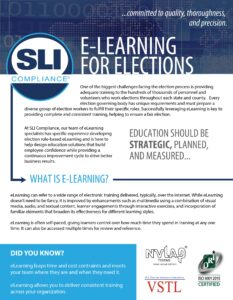 Helpful Links: